×
The gear you use on a hiking, canoe, or sea-kayaking trip can make the difference between a enjoyable experience and a miserable one. Below I have listed much of the gear I currently use. I don't necessarily recommend my choices over other products but they serve as a starting point for your own research. By reading these discussions I hope to arm you with enough knowledge - or at least questions - to help in making your own gear purchase. As with most people, my gear list is always changing as new and improved products are introduced, the old gear just plain wears out, or I simply change my mind and decide I want something else.
In general, I am willing to carry a couple of extra pounds for the added convenience of space. (Well, let's be honest, I am willing to carry a couple of extra pounds so that my wife has the added convenience of space.) That said, it is not practical on a typical back-country hiking/canoe trip to use a tent designed for more than 2-3 persons for various reasons: too heavy, requires too much real-estate, and takes up too much space in a pack, kayak or canoe. So far I have not found what I consider to be the perfect tent and I suspect one may not exist. Every feature is a trade-off between cost, weight, size, and durability. After lots of research we were able to find a tent that met our needs even if not the "perfect" tent. More...
A tarp on a back-country trip is a useful item to provide a shelter from rain and/or wind. Tarps available for back-country camping range from the basic "blue" tarp available for only a few dollars at discount stores to light weight, special purpose tarps that can cost as high as $200+. As your primary tarp consider the mid-priced Guide or Scout tarps (differing only in size) from Mountain Equipment Co-Op. Both are available in either ripstop polyester or an extremely light-weight silicone-coated nylon. The silicone-coated nylon versions cost almost double the polyester version but are approximately 50% lighter and pack smaller. My personal experience confirms that the silicone version is tougher than you might first expect when you feel the material. The larger "Guide" version (2.9 x 3.9m) of either material is a better choice than the smaller "Scout" version (2.1 x 2.9) if you will ever have more than 2 people on a trip.
A basic square or rectangle tarp may be able to provide shelter from rain but it can't shelter you from the other back-country nuisance, bugs. The Mantis Tarp, also from MEC, is a great alternative to a traditional tarp. It combines the benefits of a tarp with the sanity that comes with a mesh bug shelter. It's tent-like, floorless design provides wind, rain and bug protection and can make the difference between a miserable trip and a great trip. I've lost count of how many times I've been sitting in a Mantis, sheltered from rain or black flies, and said, "Thank God for the Mantis!"
Despite its added weight (3.3 kg, similar to a 2 person tent) and cost (~$183 Cdn), I highly recommend the Mantis. It is designed to comfortably accommodate 6 adults for cooking and socializing but we've had 12 adults sitting in it reasonably comfortably. I also recommend the optional adjustable tarp pole (~$50 Cdn). It allows additional flexibility in positioning the Mantis and only adds 565g to your gear weight. When lashed to your canoe thwarts it is hardly noticeable during a portage.
The defacto standard for camping trips, the 1-litre Nalgene Wide Mouth

is a great water bottle. Besides the obvious function of holding one litre of water it can also be used as a measuring cup, storing small items and a mixer (for making pudding for example). The narrow-mouthed Nalgene may be easier to drink from but it is not as convenient for storing items or making instant pudding in. The wide-mouth is also a standard that most water filters are designed to fit. I've tried other "no-name" look-alikes but ended up with unwanted liquid inside my pack. I've learned my lesson - pay the extra few dollars for the orignal.
Another must-have piece of gear is a water filter. A few drops of iodine or chlorine (bleach) may kill pathogens and make water safe to drink but they don't remove particulates and require that the water sit for a period of time. A water filter provides almost instant water that is safe and appealing.
Water filters range in price from $55 to hundreds of $'s. In general "you get what you pay for" but then again most of us aren't on 6-week jungle expeditions where our lives depend on having a working filter. For occasional and weekend campers lower cost filters are adequate.
Common filters used by occasional/weekend hikers and canoeists are:

MSR MiniWorks EX Water Filter (~$77)
MSR MicroFilter Water Filter (~65) - formerly SweetWater
Katadyn Hiker Pro Microfilter (~82)
A more dependable and longer lasting filter is the Katadyn Pocket Water Filter (~$300).
All of the above would be suitable for occasional use but consider that the filters for less than $100 are made from relatively fragile plastic parts and may have unserviceable 'O' rings and other unserviceable parts. Consider the more expensive Katadyn model if you frequently participate in back-country trips of more than a week and where your filter is the only filter (i.e. a critical survival item). In general, a rating of 0.1, 0.2 or 0.3 microns is adequate and will remove pathogens found in most Canadian and U.S. fresh water bodies.
MSR MicroFilter/SweetWater - I originally chose this particular water filter in 2002 because of price - it was the least expensive model at my favourite outdoor store. I used the filter for 3 years before deciding to buy a new replacement filter and it worked fine the entire time. On its 5th season it now leaks a bit around the top of the pump assembly but continues to perform its filtering job admirably. For the price and ease of use, I'm happy with the purchase. For lengthy, very remote trips you might consider a pump made with metal parts (and less of them) rather than plastic but for casual camping/canoeing trips the Sweetwater does the job at a very reasonable price.
Update (2007): The SweetWater (now owned by Cascade Designs/MSR) pump mechanism was replaced at no charge by MSR. No more leaking!
Update (Jul 2011): The small 'T' lock that is used to hold the pump lever in place has broken. A quick call to Cascade Designs/MSR and they are sending a new part at no charge.
Sawyer Squeeze Water Filter - A new purchase for the 2013 canoe season, this filter system is intriguing in that it is inexpensive, light-weight, offers a 0.1 micron absolute filter, and comes with a 1 million gallon guarantee! With this system you fill one of the included bags with dirty water, attach the filter, and then squeeze the bag to force the dirty water through the filter. The result is filtered water in your mouth or bottle. Easy and convenient! Read about Sawyer's impressive technology.
Even more information on treating water...
Your typical two choices when it comes to buying a sleeping bag for a wilderness camping experience in Canada are down and synthetic. Down sleeping bags are lighter, compress better, and down is quite durable. However, down sleeping bags are more expensive and don't insulate well when wet. Even when you've decided on down you still have to choose between duck or goose down and loft. In general, goose down is better and the higher the loft the better. Sleeping bags filled with sythetic materials are less expensive and provide a degree of insulation even when damp. Your choice will depend on your budget and the environment that you plan on camping in.
For those on a budget, a third option worth considering is a hybrid bag. A hybrid sleeping bag is one that contains both down and synthetic insulation. A good hybrid bag places the different insulating materials where their qualities are best taken advantage of. My personal experience with a hybrid follows below.
In general, for wilderness camping in a cold country like Canada, you should plan on purchasing a mummy-style sleeping bag, a design that minimizes loss of your body heat. In Canada, even a summer night can become quite cool and in the spring and fall a snow fall is not unexpected. On those type of nights you'll be glad you invested in a warm quality bag! Hint: I prefer a long bag even though a regular length bag is technically the "right" length for me. I like to have the extra room at my feet to wrap my feet in my fleece jacket on winter camping trips and to store some clothing on a chilly night.
The North Face - Blue Kazoo (-9°C - or -7°C depending on the model year)

I've been using this sleeping bag for over seven years now. I have no complaints about the workmanship and have generally been happy with this bag. It was most comfortable in spring and fall. Winter camping at temperatures below -10C required sleeping in multiple layers of fleece clothing, and wrapping my feet in a fleece jacket to remain warm. After many years of using the same sleeping bag in all 4 seasons - not what any sleeping bag is designed to do - it was finally time to get a second sleeping bag for cold winter camping. The price of down sleeping bags have come down in recent years making having two an affordable option. I chose a budget priced hybrid.
MEC Hybrid Sleeping Bag -20°C
Purchased in January 2009, this inexpensive (~$160) sleeping bag containing both duck down and sythetic insulation arrived just in time for two upcoming winter camping trips. The first night was only -12°C and, as exepected, it kept me toasty warm. The following weekend, night-time temperatures in the Adirondacks were closer to -20°C and a better test of its insulating ability. True to its rating, I was again comfortably warm throughout the night. Even my feet stayed warm, and that was without being wrapped in a fleece jacket. The downside to a hybrid bag is the fact that it doesn't compress nearly as well as a similarly rated down sleeping bag. More information: MEC Hybrid -20C
Sierra Designs (-18°C)

This is my wife's sleeping bag that has also been used for more than seven years. Like the North Face bag, it is a quality product made with goose down and has held-up well to lots of use. Quality does come at a price and, like the North Face down bag, this bag wasn't inexpensive.
Also Worth Considering:

MEC Raven: This down sleeping bag from Mountain Equipment Co-Op is an relatively inexpensive option if you're looking for a down sleeping bag without the high cost. It uses less expensive duck down (as opposed to better goose down) and is likely to have the traditional quality of other MEC-branded products. A -12C long Raven is around $160 Cdn - a great value.
Whatever sleeping bag you choose I highly recommend throwing away the basic stuff sack that comes with it and getting the smallest compression sack that will fit your sleeping bag. The compression sack is highly effective (especially with down) in reducing the size of the sleeping bag. Even better - a "dry" waterproof compression sack will protect your down sleeping bag from insulation-robbing moisture.
September 2013:
This sleeping pad is new for 2013. In fact, so new it isn't yet available. The website says it will start shipping in Oct 2013. I can't offer a personal review other than to note that it overcomes the one thing I dislike about the Big Agnus Insulated Air Core - the effort to blow it up (see comments below). According to
Windcatcher's website
and their
YouTube video
, this mattress blows up in seconds, not minutes.
If it is as good as it looks I may be one of their first customers! Check it out but keep in mind that quality is unknown at this time and even the weight specification is still subject to change. The current specifications do make it somewhat heavier than the equivalent sized Big Agnus.
May 2015:
A lot has changed since 2013. Today, Windcatcher's original AirPad has been improved and now released as AirPad 2. In the United States and other countries the AirPad 2 can be purchased on-line for $99 USD. Due to a licensing agreement with Canadian Tire in Canada, the AirPad 2 cannot be shipped to Canada. Instead, Canadian Tire sells a similar camping mattress that uses the WindCatcher technology. The
Woods Rapid Inflation Windcatcher Single Airbed
is available in Canada for a budget-friendly $79 CDN. The dimensions are almost the same and both use the same Windcatcher valve.
May 27, 2015:
Having just purchased the Woods "Rapid Inflation Single Airbed" with Windcatcher technology I cannot provide any comment on durability. However, I can say that I'm excited to put this product to the test in upcoming camping trips. A quick unboxing that including inflating the mattress and then deflating it confirms Windcatcher's claims. As advertised, the mattress was fully inflated in approximately 5 strong breaths, and deflated much quicker than the Big Agnus Insulated Air Core. Although the dimensions are almost the same, the Woods Rapid Inflation mattress rolls up to a packed size that is slightly smaller than the Big Agnus. This is likely in part due to the fact that, unlike the Big Agnus, the Woods mattress does not contain any insulating material. My Big Agnus, in its stuff sack, weighs in at 888 grams. The Woods Rapid Inflation mattress, also in its stuff sack, was actually a bit lighter at 863 grams.
I really hope that the Woods air mattress proves to be durable and can last at least a couple of years of moderate use. Time will tell and I will report back here.
Update (Sep 2017): I'm disappointed in having to report that my experience with the Windcatcher technology has been far from favourable. I've used the mattress for well over 40 nights this year alone, and its inconsistent ablility to hold air earns the Windcatcher-based air mattress a thumbs down. In my experience, the mattress remained inflated all night only about 30% of the time. It has taken me this long to come to a conclusion because of the features that I love about it - rapid inflation, rapid deflation, etc. But, enough is enough, and I've finally had to concede that I need a new camp mattress in order to be confident that I'll get a good night's sleep.
Big Agnes Insulated Air Core - I chose the regular size (182 x 51 x 6.4 cm) Big Agnes Insulated Air Core and paid about $85 Cdn at Mountain Equipment Co-Op. It rolls up into a 10 x 20cm size. Considering its size when inflated its rolled up size is small

. Smaller, in fact, than the rolled up size of the Therm-A-Rest 3/4-length that I previously used for many years. Unlike the Therm-A-Rest (and equivalents) the Big Agnes does not self-inflate. Inflating only takes 2-3 minutes by blowing into the air valve. Although the effort of blowing up the mattress and then squeezing out the air in the morning somewhat annoying, the results are worth the effort - when fully inflated it is more than 6 cm thick! In my experience the surface material is sufficiently textured to hold me and my sleeping bag in place in most situations. I have also found that for optimal comfort the pad should not be blown-up to the point of it being hard. My personal preference is for the pad to be soft enough to allow my bony parts to sink into the pad but firm enough that they don't reach the hard ground.
Update: The newer version that I now have has a different valve design that my original. It now takes considerably longer than 2 minutes to inflate but is still worth the effort.
Update: My original Big Agnes had an old, all plastic, valve design that has since been replaced with a better design made with brass. When I began having trouble with the valve leaking, the support people at Big Agnes handled my query in a friendly and professional manner. Thanks Big Agnes!
Update: After quite a few years with the Big Agnus, it has been a disappointing struggle for the last couple of years. Numerous pin holes developed and despite efforts to patch them, the mattress just won't last a night. By the middle of the night enough air has escaped that it is no longer comfortable to sleep on. The Big Agnus mattress has become somewhat infamous for getting holes and I regret that I now am not as big a fan as I started out to be.
Exped Downmat 7® - An competitive equivalent to the Big Agnes is also available. It is similar in that it is a non-self-inflating mattress that is thick (7 cm) and filled with an insulating material. Whereas the Big Agnes is filled with a synthetic material (PrimaLoft), the "Exped Downmat 7" is filled with goose down. Because down's insulating ability is degraded when moist you must use the small footpump incorporated into the stuff sack to blow it up. In my evaluation, the Exped Downmat was no different in terms of comfort despite being filled with down, was a little less restrictive in how it could be blown up, seemed to weigh a bit more (athough on-line specs show it being less -- the heavier sack may accout for the difference), rolled up slightly larger, and cost 75% more. Needless to say, we returned the "Exped Downmat" that had been bought for my wife and purchased a second Big Agnes instead.
Therm-A-Rest® - My reliable sleeping mattress for over 15 years was a 3/4 length, standard thickness Therm-A-Rest. I spent all those years rolling around at night with one arm going to sleep and then the other. It just wasn't thick enough for me. For those who sleep on their backs it would be plenty thick enough. Modern self-inflating mattresses (Therm-A-Rests and their store brand equivalents) come in much more variety of thickness, lengths and widths. Of course, the thicker, wider, or longer the mattress the larger its rolled-up size and the heavier it is to carry. The comfort series of self-infalting mattresses are down-right huge even when rolled up.
MEC Brio 70

- My wife and I actually own two of these packs. We have found them to be a quality pack at an incredible price (even better price now than when we bought ours 3 years ago). The MEC Brio line of packs are available at Mountain Equipment Co-op stores in Canada or at their on-line store. The 70 litre size (actually a bit more when the expandable neck is stuffed to its limit) is the minimum size I would recommend for most people doing a one or two night camping trip. My wife and I find that on a typical 2 or 3 day canoe trip we fill our two Brio 70's and still need to bring a third pack (or barrel). (Obviously we are not minimalists!) On a backpacking trip it can be challenging to fit everything we need (or want?) along with us using two 70 litre packs but have managed for 3-day (2-night) trips.

A larger (80 or 95 litre) pack should be considered if you plan on doing backpacking and don't have the luxury of bringing along a 3rd gear bag. However, be careful when buying a large volume pack. The added volume often means the pack is taller. A tall pack can make portaging a canoe while wearing the pack difficult if not impossible. For canoeing consider a larger capacity canoe pack (see Eureka SS115 below).

Drypack - For use while canoeing, a large volume canoe drypack is yet another option. The packs generally have a large volume (110 litres or more), are wide not tall, have a roll-up top that creates a waterproof seal, and have grab loops strategically placed to make it easier to lift the pack in and out of your canoe. These packs are not well suited to backpacking situations and therefore are a great 2nd pack but not as your only pack.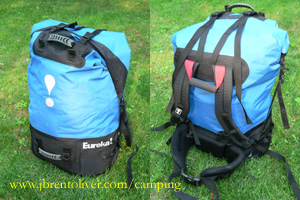 The newest member of our pack inventory, the Eureka 115 litre canoe pack solves our space problem and will replace the MEC Brio 70 for all future canoe trips. It is a large frameless pack made with waterproof material and has a roll-top to keep out water. Its short, wide shape is perfect for allowing it to be worn while portaging a canoe. A nice feature of this pack is the conveniently located handles on the front to facilitate loading and unloading from a canoe. The shoulder harness and hip belt are well padded.
Update (Jul 2011): The Eureka Canoe Pack has been in use for over 5 years now and used in some fairly abusive conditions. It's still going strong and I still highly recommend it for flatwater or whitewater canoe tripping.
Update (Jan 2017): The Eureka SS115 Canoe Pack finally began to rip in the summer of 2016. That's 10 years of heavy use - a very respectable life span for a canoe pack. However, the story doesn't end there. The pack was taken to Johnson Outdoors Canada in Burlington Ontario to see if it could be repaired. I was pleasantly surprised to receive a free warrranty exchange for a brand new one! I have noticed that the material used in construction has changed somewhat - hopefully for the better. Regardless, Eureka gets my accolades for making a great product and standing by it.
Barrel - Over the last couple of years I have been replacing a pack with a 60-litre barrel

when on a canoe trip. The barrel provides a water-tight storage area for sleeping bags and povides a relatively safe food storage area. Barrels are especially great for white water canoe trips.

Comfortably carrying a barrel over a portage requires that you outfit it with a suitable barrel harness. The harness I now use is the Canadian-made

. I don't have enough experience using it yet to provide a review other than to say that I have high hopes for its quality and comfort. I'll provide an update later this summer.

Due to the fact that a barrel is air-tight it is commonly believed that food can safely be left on the ground in the barrel rather than rigging a rope system for hauling your food into the air

. However, if a bear did decide to see what is inside it likely wouldn't have much trouble getting at the contents. So far, our food has remained safe when stored in a barrel. We're keeping our fingers crossed!
A headlamp is one piece of equipment that every camper needs. A hand-held flashlight on a camping trip is a pretty rare sight these days. A headlamp provides the light you need at night while leaving your hands free. Although a headlamp with an incandescent or halogen bulb generally provides a stronger and longer light beam, their hunger for power quickly drains their batteries. LED headlamps, however, are miserly when it comes to power consumption and can last the entire summer long on one set of batteries (depending on how much you go camping of course). And now newer models of headlamps use a high-powered LED that rival the halogen bulbs for most tasks.
I highly recommed that anyone camping have an LED headlamp. For less than $30 you can purchase a good headlamp. Heck, for $15 you can buy an adequate one. I have personally owned headlamps from Petzl and Black Diamond. Although I still own and occasional use an incandescent bulb headlamp I am now sold on the low energy consumption, light weight and low cost of LED models. My favourite is a Black Diamond model that has 4 LEDS that provide more than enough light for my camping activities

.
Some hard-core campers might view a camp chair as an unnecessary luxury. However, for anyone who has sat on a log by a campfire and squirmed with an increasingly sore back, you'll appreciate that a camp chair is as much a necessity as a good sleeping mattress. The whole idea of a camping trip is to enjoy your time in the outdoors. A certain amount of hardship in the form of sore muscles and bad weather can make a trip memorable but a sore back can turn a trip into an experience you would rather forget.
Camp chairs come in many forms

. The chair you bring with you will partially depend on the type of trip. When going on a sea kayak trip for example you can consider bringing a larger, more luxurious chair since you won't need to carry it far. A backpack trip, however, will require the lightest possible chair you can find. (For a backpack trip with long days of hiking where every ounce counts, I would likely not bring a chair.) Make sure your camp chair has a back support. If your chair doesn't have a back support then you might as well leave it at home and sit on a log.
My favourite camp chair is an inexpensive foam-padded camp chair

that holds its shape with aluminum stays inserted along the edges. Not only is it light weight, it is also flexible enough that it fits inside my pack without taking up much space. It also has the advantage of quick-release clips that when released allow the chair to become a flat cushion for lying on. The side straps also slide so that you can adjust the angle of lean. Don't get me wrong - it is not the most comfortable of the available chairs. I just find it the most convenient for the various types of camping that I'm likely to do.
Finally, after years of tromping around in "old-fashioned" (a.k.a. traditional) wood snowshoes I finally bought a pair of modern aluminum-framed snowshoes

. I bought a pair of Tubbs snowshoes with fairly heavy-duty looking crampons on the bottoms. Although the old wood snowshoes gave me great flotation on deep fluffly snow they were a hinderance on an incline. Their extra length also made going over logs and other obstructions more difficult. I am still going to keep my traditional snowshoes around for those trips where the going is flat with numerous lake crossings but the modern style is the clear winner for typical outdoor activities. The traditional snowshoes will look good on a cottage wall though!
Update (Jul 2011): The current "cat's ass" in snowshoes is the MSR Lightning Ascent. A bit pricey but high on my list for a future purchase. My current Tubbs

are acceptable for relatively flat terrain but don't have the grip necessary for use in ascending steeper slopes. If you are hiking in the Adirondacks or mountains of the west coast of North America you'll want the features of the MSR Lightening Ascent (or competitive equivalents).
After having used a number of different types of camp stoves and reading many reviews I finally settled on what seemed to me to be a faithful, easy to maintain stove, the MSR WhisperLite. This stove has a lot of the features that I felt important: compact, burns white gas (a.k.a. Coleman fuel), easy to take apart (for taking on an airplane), fuel bottle and stove are separate (again, for taking on an airplane), and it is reasonably quiet. The only feature that this stove does not have that can be found in some other stoves is the ability to simmer. Although there are tricks to get it to simmer, such as reducing the pressure in the fuel tank or using a heat diffuser, for practical purposes it is either off or on full blast.

After years of use my decision to purchase the MSR Whisperlite has been validated. It is indeed faithful and easy to maintain. I bought the Whisperlite International model which has an extra-durable fuel line that will burn white gas, kerosene and unleaded auto fuel. Unless you plan on travelling outside of North America with your stove, save your money and don't buy the International version. White gas is readily available everywhere in North America and is clean burning.

Tip: A 3" mailing tube is the perfect diameter to hold a standard 600ml MSR aluminum fuel bottle. A mailing tube cut to the appropriate length (~10.5" in my case) and wrapped with duct tape to provide added strength and weather resistance, is a great storage container for transporting a fuel bottle with the fuel pump attached. The fuel pump is all plastic and the most likely component to be damaged in your pack or around camp. Storing the bottle and fuel pump together in the 3" mailing tube lessens the chance of damage.
Teva Karnali Wraptor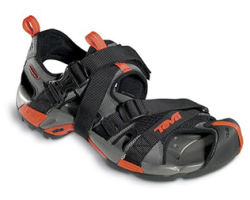 My favourite sandals over the past few years (2008-2011) for use in water activities such as canoeing and kayaking are Teva Karnali Wraptor sandals. These sandals have the features important for water activities - especially whitewater canoeing/kayaking: clip connectors (not velcro), toe protection, adjustable straps that snug up tightly around the foot and ankle, and rubber soles that grip well in wet conditions. Unfortunately, in less than 3 years of use, the soles have begun delaminating from the footbed - once almost completely. Bad glue? Perhaps. A call to Teva confirms a bad glue was used a couple of years ago on at least one model. Apparently the issue has been corrected since. The Teva Wraptor sandal can be difficult to remove however. To loosen the strap that wraps the foot requires that you wiggle a finger between your foot and the strap and pull it through the channel built into the sole. With a clean, dry sandal that is simple enough but add a little sand and grit - typical after a day of paddling and portaging - and it can take quite a bit of pulling force to loosen the strap. Rather bothersome actually.
I'm a huge fan of Teva's 'Spider Rubber' that is used on many of their sandal models. It is very grippy in wet and dry conditions and allows me to portage and line a canoe over wet and dry rocks with great confidence. Of course care should always be taken when walking over rocks, roots, and any uneven ground. Even Teva's Spider Rubber won't grip a wet root or a algae-covered rock.
In 2011, the Teva Wraptor Guide sandals may not be available in all stores. The Teva website no longer shows the Wraptor as a current model. For water activities such as canoeing and kayaking I am currently considering Teva's Omnium and Itunda sandals and the Churn shoe. The Teva Avator SR high ankle shoe design would also be a good choice for high intensity water sports but doesn't transfer well to wearing in a more urban environment.
I've never worn Keen sandals but know many active canoeists that do. Although popular, and one of the first to offer toe protection, Keen sandals may not have the same level of grip in wet conditions as Tevas using 'Spider Rubber'. The Keen Hydro Glide model would be a great design for high intensity water activities if it weren't for the velcro heel strap. Velcro doesn't hold well in water and could come loose at a critical moment. Based on conversation with Keen owners, there also seems to be a problem with what has been referred to as the 'Keen Stink'. The footbed is apparently prone to bad odours if worn without socks.
July 2011: After trying on the Teva Churn, Omnium and Itunda, I have purchased the Teva Itunda sandal (approx. $120 Cdn).
Not making the grade were the Teva Omnium and the Churn. The Omnium sandal had two velcro straps, one which prevents easy tightening and loosening of the primary strap. Velcro does not hold well in water! The Churn, even with the bungee laces pulled snug, were easily pulled over the heel.
Teva Itunda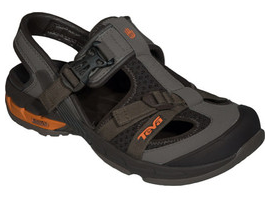 Teva Itunda sandal has all the features of a great water sport sandal: closed toe box, snap connector, no velcro, spider rubber traction, and a snug fit. The single snap connector design makes the sandal extremely easy to get on and off and alllows for quick tightening or loosening. Hopefully, the soles will remain attached to the footbed for more than 2-3 years. If not, spider rubber or not, I'll be moving on to another manufacturer. At this point, I'm giving Teva the benefit of the doubt.
Update (Jan 2017): After 5 years of use white water paddling the Itunda sandal

is looking a bit worn and dirty but remains structurally sound.
Update (Aug 2017): My favourite Itunda sandals are no longer structurally sound and no longer useable. Although the sole has begun to separate, it is the heel strap breaking that have done them in. I'm certainly happy that they lasted 5 years, especially considering the rough conditions they were used. Up until now, the Teva Itunda sandal survived many portages, in-water canoe lining, shoreline river scouting, long time bending while kneeling in a canoe, rock hopping, and general use. That's the good news. The bad news - the model is no longer available. More bad news - Teva no longer produces sandals or water shoes with Spider Rubber. Some new Teva models have Vibram MegaGrip rubber outsoles. I've no experience yet to comment on how it will compare to Spider Rubber.
My favourite camp knife - the Becker BK 16 by Ka-Bar. This knife is rock solid and can take the abuse of batoning (chopping wood). Having this knife or a similar one at camp is handy for many reasons, but especially for chopping wood into kindling and digging a "cat" hole when nature calls.
Common customizations of this knife are to upgrade the handles to micarta and to replace the sheath that comes with the BK-16. The handle replacement is very expensive and arguably not worth the expense. A custom sheath is worth considering though. A good option is a hand-made sheath by AZWELKE. In 2016, I paid $34USD + $8USD shipping for a custom made kydex sheath (product code BK16 FFG). It fits the knife perfectly.