Alchemist Myth
After many years of paddling and portaging a heavy (74 lb.) fibreglass canoe, increased age and wisdom finally overcame my frugality - it was finally time for a Kevlar canoe. You can read about the many deciding factors that went into selecting a particular canoe at the page titled Buying a Canoe. In early 2006 I took a bit of a chance and decided on a new, completely unknown canoe brand with no history - the Alchemist canoe. Specifically, I chose the Alchemist Myth.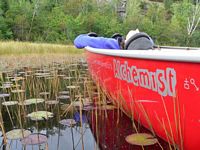 Before making a final decision my wife and I had an opportunity to take the Myth for a "test drive" at a local river. My wife and myself (both with many years of wilderness canoe tripping experience) both liked the responsiveness and speed of the Myth compared with our then current 16', fibreglass, single-keeled, Scott Tripper. The significant rocker on the Myth provided great manoeuverability which gave us some concern. A flatwater tripping canoe is generally required to go straight and benefits from little to no rocker. The Alchemist Saga which, like the Myth, has no keel, has a slight flare, and is asymmetrical, differs in that it has very little rocker and is 17' long. Those differences would significantly improve the tracking ability of the Saga. However, since I really wanted a 16' canoe, I decided that my paddling experience could overcome the decreased tracking that would likely be a characteristic of the Myth.
Paddle Shack promotional literature says the following about the two canoes:
SAGA (17')
Longer expeditions require a fast, straight-tracking canoe that can carry all your gear. The Saga has very little rocker allowing it to maintain a straight course, a low shear line to avoid wind resistance and a flared hull to shed waves. An asymmetrical shape and differential rocker mean that the canoe is as efficient as it can be without giving up the ability to change course easily. The Saga truly is a thoroughbred of canoes and the new leader in modern design technology.
MYTH (16')
A little more patience and skill are required to master this canoe, but the reward for your efforts is great. The Myth is the embodiment of everything a canoe should be, performing well tandem or solo in white-water, on flat-water and on rivers. Its unique combination of a flared hull for seaworthyness, increased rocker for manoeverability, asymmetrical shape for efficiency and high volume for heavy loads enable you to easily overcome any obstacle on your way to the remotest parts of wilderness. The true 'jack of all trades' is born. They say you can't have it all but they haven't paddled the Myth.
Having decided on a Myth we placed the order with two changes to the standard configuration. One, we asked that the standard sliding bow seat be replaced with a fixed seat. We have found that we can adequately achieve proper trim by moving packs around as needed and prefer the extra space that is gained with a fixed bow seat. Two, we asked for the standard solo thwart to be replaced with a straight thwart. Although the Alchemist canoes are equipped with a kneeling thwart as standard equipment I decided the straight thwart would allow a little more flexibility in pack placement since a pack can be slid under a straight thwart but not necessarily a bent, kneeling thwart. Since I rarely paddle solo a kneeling thwart was of no benefit to me - even though it appeared to be a well thought-out design.
The Alchemist line of canoes, made in Ontario for the Alchemist Canoe Company by H2O Composites Inc., were introduced in 2006 and are currently distributed exclusively by Paddle Shack. Paddle Shack has three locations in Ontario: Toronto, Muskoka, and Ottawa. (Update: As of June 2009, the Toronto location no longer exists.)
The 2006 paddling season has now come to an end in Ontario. In the paragraphs that follow I provide my observations about the Myth having now had the opportunity to experience it in a number of different conditions. In general terms, the Myth met my high expectations and I am happy to recommend it to others looking for a light weight, high quality tripping canoe. The few negative observations are minor and are heavily out-weighed by the postives. The table below summarizes my observations.
Pros
Undecided
Cons

smooth, flawless outside finish
epoxy resin used in resin infusion process
Teal yoke
comfortable seats with standard padding
large capacity
colour-matched skid plates (internal skid plates available)
waterproof storage in float tanks via access hatch
sliding bow seat standard (but we chose to replace with fixed seat)
stainless steel hardware
well placed side reinforcements
large carrying capacity

ergonomic grab handles
flat finish on wood (yoke, thwarts, seats, etc.)
(intentionally) bent seat hangar bolts (field servicability?)

cheap-looking deck plates
white inside finish dirties fast and hard to clean
Our shiny new red Myth was first launched in May 2006, ironically, without me in it. Its first voyage was as part of a flat water paddling training day hosted by an Ontario camping and canoeing club that I am a member of: Wilderness Adventurers of Ontario. Two new club members spent the day paddling around a small lake learning basic paddling strokes in the Myth. Carrying the canoe from my truck to the lake and back again did give me a good chance to notice two things: it was light (about 50 lbs) and the outside finish was beautiful. In the bright sun I could not see any flaws in the painted finish and the Kevlar layup was extremely smooth. I'm told the Kevlar hull is constructed using high quality epoxy resins using a "resin infusion" technique which should mean that delamination problems won't occur with this canoe - and haven't.
The Myth's second outing was another day paddle that allowed me to become accustomed to how the Myth handled in calm water paddling. The first feature my paddling partner and I noticed were the seats. The seats are not only curved downwards at the front, but are also equipped with a seat pad securely attached to the basic webbing underneath. The combination makes for a noticeably comfortable seat. A zippered cover holds the pads which means that the pads can be replaced or enhanced as needed in the future. One possible future problem with the unique seat design is the fact that the front seat hangars are supported from the gunwales by bent bolts in order to provide the downward sloping angle. Years down the road when a bolt breaks from fatigue it may be hard or impossible to replace in the field - simply carrying a spare hanger bolt won't suffice. Since stainless steel hardware is used it should be many years before this possibly becomes an issue but the bend in the bolt may actually be introducing a weak point that accelerates failure. Time will tell.
Paddling along for the first time also gave me a chance to notice the various other features such as the ergonomically designed grab handles. The handles curve downward and actually have finger grooves in them. Supposedly the design more closely matches the natural curve of your hand while carrying a canoe. Although the feel is comfortable, I'm not so sure that it is any more comfortable than a standard straight grab handle. It seems to be more of a sales gimmick to me. Perhaps one day I'll learn to appreciate the design.
Another noticeable feature that is unique to this canoe are the water-proof access hatches that allow one to store stuff (albeit small stuff) inside the float tanks at the bow and stern. I immediately put my emergency roll of duct tape in one of them -one less thing to put in my pack. On a longer trip it would be a good place to store a fibreglass/Kevlar repair kit as well. (Be careful about weight distribution - you don't want to throw off the balance while portaging.) While taking my turn in the bow I couldn't help notice the small deck cap. Unfortunately the cut plastic had a rough unfinished look to it, contrasting with the beautiful finish on the outside of the canoe. I would also prefer to see a larger deck plate so that I could rig a holder for the painter using some shock-cord and a couple of drilled holes.
It wasn't until a 2-day canoe trip in August and then a 4-day canoe trip in September including more than 6 kilometres of portages that other features of the Myth became apparent, such as weight and capacity. For a 16' canoe the Myth has a considerable amount of carrying capacity. Because the Myth has a flared side it is a full 37" wide by the time the sides reach the gunwales. This allows for plenty of room for all but the largest packs to be placed sideways in the canoe. The relatively small float tanks also result in room behind the stern seat for a medium size pack or other miscellaneous gear. Our choice to replace the standard sliding bow seat with a fixed seat and to replace the solo thwart with a straight thwart also added to the useable space. We've found that the Myth will easily accommodate our relatively generous supplies that normally accompany us on a trip.
Portages are aided by the standard Teal yoke and, of course, by the lightweight Kevlar. My Myth weighs in at about 50 lbs which is a bit more than the originally advertised weight but is justified because of additional Kevlar added to reinforce the sides. The demo model I first paddled was noticeably weak in the side when balanced above my knees in preparation for lifting over my head. Significant improvements were made to the Kevlar layup to improve side strength before I received my canoe and the feel is now solid and will likely stand up to many years of portaging - well worth the few extra pounds.

Now that the first paddling season is over and our new canoe has a number of scratches - each with its own story - I feel comfortable in recommending the Alchemist Myth as a fine wilderness tripping canoe. Less experienced paddlers or those wanting a bit more room - perhaps to accommodate a dog or child - might consider the Alchemist Saga. It has similar features as the Myth and is built with the same quality materials and workmanship.

Update (July 2009): We're now into our 4th paddling season with our Alchemist canoe and it continues to be a stellar performer. The only problem that has developed is a leak in one of the "water-proof" float tank access hatches. I suspect the gasket may have been compromised in some way and can be fixed by simply replacing it.

A yellow line has been added to highlight the Myth's substantial rocker.

Burgundy Carbon/Kevlar Myth

Standard sliding bow seat, access hatch, and ergonomic grab handle.

Burgundy Carbon/Kevlar Myth featuring wood gunwales

Red Kevlar Myth

Red Kevlar Alchemist Myth featuring aluminum gunwales

Red Kevlar Myth

Stern seat

Hull flare highlighted with added yellow lines

Alchemist Myth

Portaging the Myth

Relaxing in an Alchemist Myth

Alchemist Myth

Alchemist Myth

Alchemist Myth

The Author