Outfitting a Tandem Canoe for Whitewater
In order to ready my Evergreen Starburst Rolyalex canoe for a season of whitewater paddling I outfitted it with end air bags, thigh straps, and knee pads.
Installing Thigh Straps
Materials and Costs
Northwater Padded Thigh Straps $39
3.5" x 5" vinyl anchor with 1" lightweight D-ring (x2)
3.5" x 5" vinyl anchor with 1" D-ring (x2)
3 mm Black Nylon Cord (2') $1.00
small cord locks (x2)
Tools Required

pencil
lighter
tape measure
150 grit sand paper

1" utility paint brush
contact cement (waterproof - NOT water-based)
contact cement thinner
cloth/rag
Step 1: Surface Prep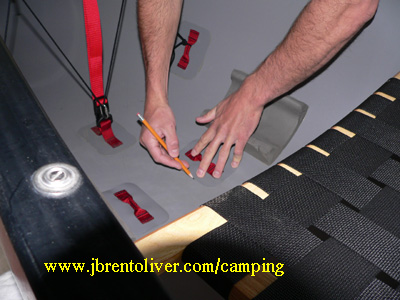 One at a time, place an anchor where it will be glued and trace its outline with a pencil. The floor mounted anchors should be located inside each knee or thigh. I chose to use the previously installed knee pads as a guide and located the anchors about one inch from the inside edge of the knee pad and even with the forward edge. The exact location will depend on the style of anchors that you have purchased.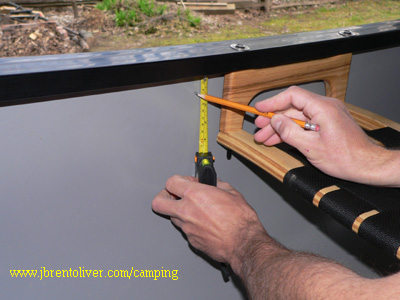 The upper anchors should be placed at a point where the thigh strap will comfortably cross over your thigh from the inside of the knee. It should be high enough that the thigh strap does not drop lower than the top of your leg. If the strap holds your leg too snugly there is a chance you won't be able to escape the straps should you capsize.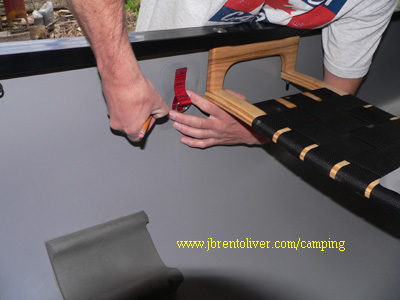 In my example I place the anchor approximately one inch from the bottom of the gunwale and just in front of the seat.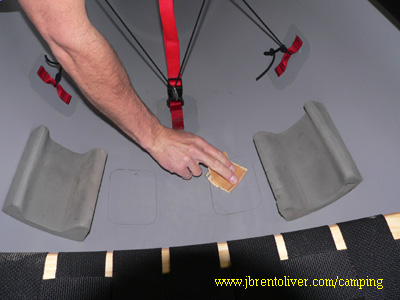 Lightly sand the vinyl surface inside the penciled areas and clean.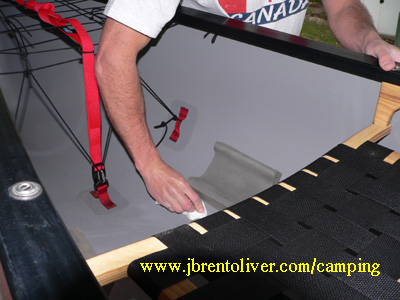 Clean the sanded surface using contact cement thinner and a clean rag.


Step 2: Securing Anchors
Brush a thin, even layer of contact cement inside the anchor outlines and on the back surface of the anchors. Make sure you go right to the edges (or even a couple millimetres beyond). Let the surfaces dry for 15+ minutes. When dry, carefully place the anchors into position and apply pressure over the entire surface area to remove any air pockets and make sure there is a good bond.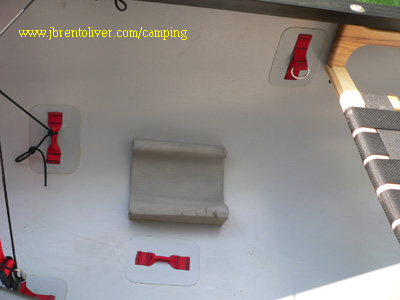 Step 3: Attach Thigh Strap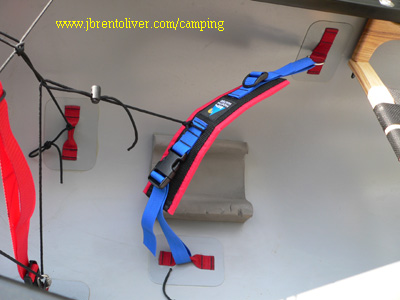 Thread the thigh strap webbing through the upper and lower anchors. The way you do the threading will determine where the quick release will be located. You might choose to position it closest to the canoe gunwale to make it easier to reach should you capsize and not "pop out"of the straps.