Gear List - Winter Adirondacks Hike
Each year in January or February I join friends for a trip from our home-base in the Greater Toronto Area to the High Peaks area of New York State. It's a long drive (about 7 hours) and we sleep outside in a lean-to. Although the road trip and winter camping is a good time, the main objective is a challenging winter day hike to one or more of the high peaks around Lake Placid (such as Mount Marcy, Algonquin Peak, Mount Colden and Giant Mountain). These hikes are typically 3000' or more of elevation gain, 16-21 km in distance and take 8 to 10 hours.
The weather can vary significantly from sunny, snowy, icy, overcast, and be any where from approximately 0°C to -20°C, getting even colder with altitude gains. And if it's windy at and near the peak, look out, it can be nasty cold!
The following list is the clothing I typically wear and the gear I typically take on such a hike. It's quite a list for a day hike, but these are not simple day hikes. They are difficult, exhausting hikes that cover the extremes: extreme heat and sweating during ascent, extreme wind and cold approaching the peaks, and isolation and distance from help in the event of an accident or becoming lost. My gear list includes items for warmth, traction, dryness, safety, first-aid, calories and survival. The weight of all this gear and emergency equipment adds up. For a trip like this the day pack approaches 20 lbs while carrying a litre of water, the crampons and an ice axe.
Links to retailers are to provide a sample of what to consider and are not necessarily an endorsement of the brand or retailer.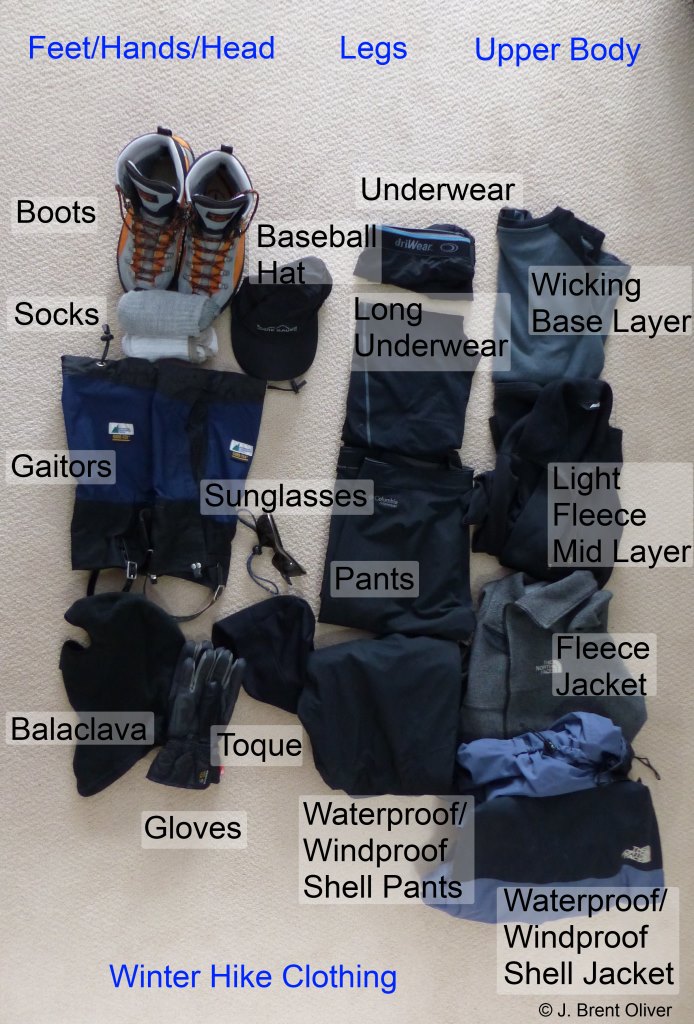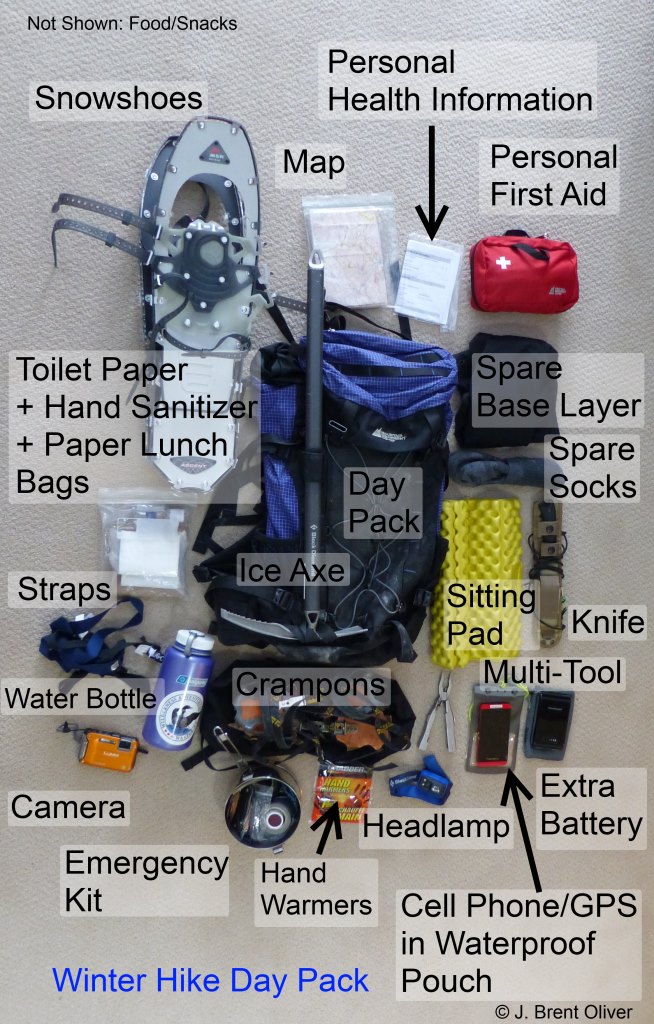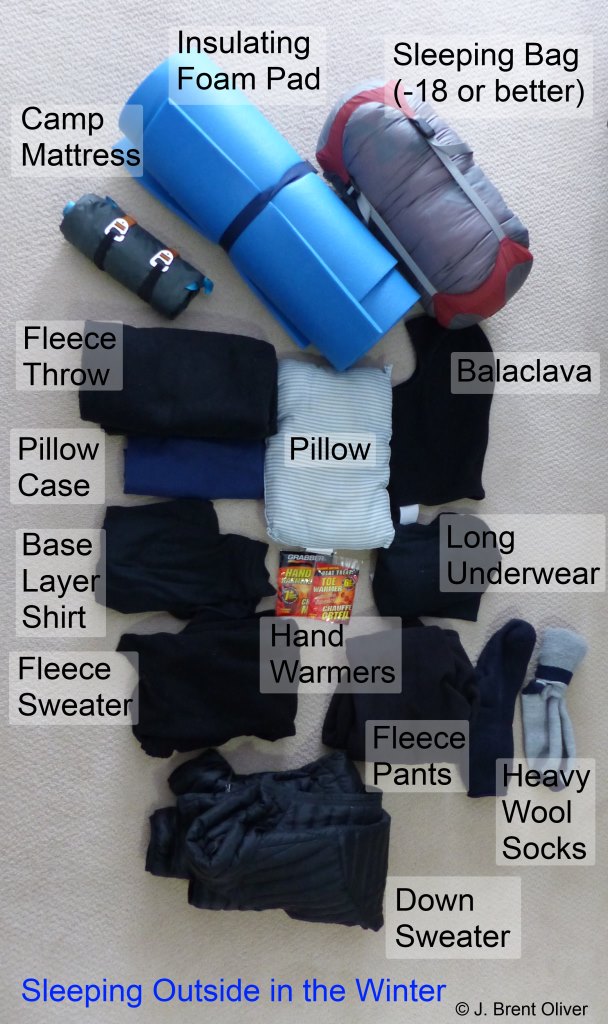 Gear:
Snowshoes designed for climbing (a great choice is one from the MSR Ascent and MSR Explore categories of snowshoes)
40+ litre day pack (with extra straps to secure snowshoes when not being worn) - pack must be large enough to hold water, outwear, crampons and snowshoes, extra socks, etc. when not being worn
Nalgene bottle or camelback-style waterbladder (1-3 litres depending on hike length and your propensity to sweat)
Base Layer:
travel underwear (quick-dry, moisture wicking)
long underwear (quick-dry, moisture wicking, non-cotton)
long-sleeved undershirt (quick-dry, moisture wicking, non-cotton)
socks (moisture wicking, non-cotton; optionally wear over a thin liner sock)
Mid Layer:
long-sleeved shirt (quick-dry, moisture wicking, non-cotton)
Pants|Snow shedding material
Outer Layer:
Fleece jacket
Waterproof, wind-proof, breathable shell jacket with hood
Waterproof, wind-proof, breathable over-pants
Gloves or mittens (at least two pairs)
Waterproof overmitts
Outerwear:
Hiking boots
Ankle Gaitor
Toque
Balaclava
Sunglasses and/or ski goggles
Extra Clothing (in day pack):
Extra pair of socks
Extra pair of mittens
Extra shirt (non-cotton)
Navigation:
GPS (dedicated outdoor model or smart phone in waterproof bag or container)
Paper map (always have a backup to a battery-operated GPS!)
Compass
Emergency:
Metal cup, bowl or small pot suitable for boiling water (a small pot with lid can serve as the container for many of these emergency items)
Cell Phone (add DEC Emergency Phone #, 518-891-0235, to contacts)
Duct Tape
Foam "bum pad" for sitting on
Headlamp/flashlight
Butane Lighter (wind-proof/water-proof)
Magnesium FireSteel fire starter
Polyurethane Emergency blanket / bivy sack
Multi-tool / fixed-blade knife
Self-heating foot/hand warmers (x4)
Personal health and emergency contact information (download form, fill-out and place printed copy in a zip-lock baggie and place in top part of day pack)
High calorie emergency food (granola bars, protein bar, energy gel)
Coffee filters or cheesecloth (Optional; water from melting snow invariably contains all sorts of leaf and pine needle debris. Although harmless once boiled, these bits are easily removed by straining the water first.)
Two plastic shopping bags (to put over extra dry sock and into boot in the event a foot and boot gets wet crossing a stream)
Rope (15 m x 7mm)
Carabiner and Pulley
Pen/pencil
Personal First-Aid:
Lip balm (with added SFP 15-30 UV protection)
Epinephrine (Epi-Pen) (if applicable)
Mole skin and/or blister kit
Ibuprofen 200 mg (x8) or 400 mg (x4)
Acetylsalic Acid (Aspirin) 325 mg (x6)
Diphenhydramine Hydrochloride (Benadryl) 25 mg (x8)
Bandages of various sizes
Tensor™ Elastic Bandage (for dealing with minor sprains)
Toiletries:
Hand Sanitizer
Toilet Paper (in zip-lock bag)
Paper Lunch Bags (x2+) and large zip-lock bags - for transporting and burning toilet waste
Other/Optional:
Camera
Watch
Altimeter
Reading glasses (for reading those small contour values on a typical topo map)