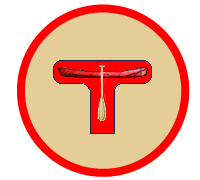 Two Red Canoes
Camping and canoeing resources.
Gear List - 3-day, 2-night Sea Kayaking Trip
The gear list below is what I packed for a 3 day sea kayaking trip on Georgian Bay in Ontario.
The weather was expected to be nice and typical of an Ontario August weekend - warm days and cool nights. Rain was not forecast but, as always, was planned for.
Outerwear:
Wide-brimmed hat with neck strap (A Tilly Hat is a good choice.)
Neoprene paddling gloves
Waterproof-breathable windproof shell jacket or paddling/splash jacket
Fleece jacket
Waterproof/breathable rain pants
Stuff:
Headlamp
Eating Supplies (plastic cup, plastic plate, Lexan utensils)
1 litre Nalgene Water Bottle
Sun Glasses
Lip Balm
Knife/Multi-Tool
Whistle
Compass
Map Case & Map
Butane Lighter (Wind-proof/Water-proof)
Pencil/Notepad
Zip-lock bag for wallet (safer with me than in the car)
Utility straps (x2) - for holding snowshoes onto backpack
Self-heating "Hot Pad" foot/hand warmer (x2 for each night at least)
Coffee filters or cheesecloth. Water from melting snow invariably contains all sorts of leaf and pine needle debris. Although harmless once boiled, these bits are easily removed by straining the water first.
Toiletries:
Hand Sanitizer
Toilet Paper (in zip-lock bag)
Flushable Wet Wipes (in zip-lock bag)
Paper Lunch Bags (x2+) and large zip-lock bags - for transporting and burning toilet waste in areas where there is little top soil
Toothbrush/toothpaste
Small hand towel
To Wear:
Underwear - Quick Dry
Shirt - Quick-dry, long sleeve to protect against sun
Shorts or quick-dry pantsFleece Pants
Water shoes, sandals or neoprene paddling booties
Ankle Socks - optional, to reduce chance of getting blisters while wearing wet shoes/sandals
Sleeping:
Sleeping Bag (Summer or 3-Season)
Compression sack for sleeping bag
Expedition weight (fleece)long underwear (for sleeping)
Expedition weight (fleece) long sleeve undershirt (for sleeping)
Wool socks (two pairs)
Pillow Case - stuff with extra clothing to make a pillow
One set of extra clothing:
Pair of Socks (1 or more extra pairs)
Underwear (1)
Pants (wool or synthetic quick dry)
Shirt (wool or synthetic quick dry)
More thoughts on preparing for a sea kayak trip...
Because you'll be bringing a large number of small items instead of one big backpack or canoe pack, what is really handy to have is one or more Ikea shopping bags for transporting the items from your car to the kayak and then also from the kayak to the campsite. The Ikea bag (or equivalent) is large enough to carry quite a bit but packs up really small and takes up virtually no space in the kayak.
When packing your tent, you will be better off separating the parts. The fly, tent, and poles can all be separated and packed on their own. This way you'll have 3 smaller packages rather than one big one. It will be easier to find space in the kayak to put them. The poles can be protected from breakage by placing them in a packing tube or wrapped in a piece of cardboard formed and taped into a tube-like form. I wrap the entire packing tube in packing tape or duct tape to give it strength and The poles, protected in their packing tube, will be able to placed far up into the bow of the kayak where it is very narrow and not much else will fit there.