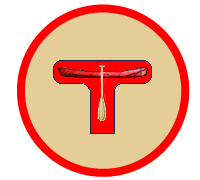 Two Red Canoes
Camping and canoeing resources.
Gear List - Spring White Water Canoe Trip
The gear list below is what I compiled for a 3-night, 4-day canoe trip. This particular trip included some white water and a number of portages, 2 of which were over 1300 metres.
The weather in near-north Ontario in May is unpredictable at best. On this particular weekend the forecast included rain and cool temperatures ranging from 2C to 12C.
Outerwear:
Hiking Boots
Short Gaitors (to keep rain from running into hiking boots)
Fleece Toque
Baseball Cap
Warm Gloves
Paddling Gloves
Waterproof-breathable shell jacket
Fleece jacket
Waterproof shell pants
Sandals or paddling shoes
Cooking:
Stove (with 650 ml of White Gas)
Extra white gas (Coleman Fuel) (750 ml)
Eating Supplies (plastic cup, plastic plate, Lexan utensils)
4 litre pot with lid
Pot Grip/Lifter
Scrubbie
Dish Washing Soap
Dish Cloth
Large Serving Spoon
Salt/Pepper/Sugar
Tea/Hot Chocolate
Emergency Supply of Instant Oatmeal
Collapsible "Kitchen Sink" (10 litre)
Dipper Cup
Flexible Cutting Board
Stuff:
Headlamp
1 litre Nalgene Water Bottle
Sun Glasses
Lip Balm
Knife/Multi-Tool
Compass
Map Case & Map
Butane Lighter (Wind-proof/Water-proof)
Pencil/Notepad
Zip-lock bag for wallet (safer with me than in the car)
Camp Chair
Folding Camp Saw
Camera (and Pelican Case to store it in)
Bug Spray
Bug hat (or bug shirt)
Extra Matches
Repair Kit
Duct Tape
Emergency Blanket
Favourite book (in zip-lock bag)
Utility Rope (5mm x 60')
Candle Lantern
Toiletries:
Hand Sanitizer
Toilet Paper (in zip-lock bag)
Flushable Wet Wipes (in zip-lock bag)
Paper Lunch Bags (x4) - for burning toilet waste
Toothbrush/toothpaste
Small hand towel
Mirror (plastic)
Dental Floss
Rinseless Shampoo (in small bottle)
To Wear:
Leather Belt
Hiking Socks
Underwear
Long Sleeve Undershirt
Long Sleeve Shirt
Hiking pants
Sleeping:
Tent including ground sheet and 3mm poly cut to inside floor shape (for moisture barrier)
Down Sleeping Bag
Compression sack for sleeping bag
Light-weight long underwear*
Light-weight long sleeve undershirt*
Wool socks*
Pillow Case - stuffed with fleece jacket to make a pillow
* If I bring my down sleeping bag I either bring a sleeping bag liner (cloth or silk) or wear long underwear, long sleeve undershirt, and socks to protect the down sleeping bag from dirt and oil from the skin.
Extra clothing:
Hiking Socks (2 pair)
Underwear (1)
Hiking pants (MEC Rad Pants)
Bathing Suit/Shorts
Long sleeve shirt
Fleece pants
Canoe:
Canoe (Royalex/ABS)
PFD
Helmet
River Knife (attached to PDF)
Paddle (x3 per canoe)
Bailer (made from empty liquid laundry detergent or bleach bottle)
Throw Bag (15 metres of floating rope)
Whistle (attached to PFD)
Rope for Painters (2 x 8 metres of floating rope)
Velcro (to secure spare paddle to thwarts)
Thigh Straps
Hat Clip (to secure baseball cap to life jacket)
End Bags
Packs:
Backpack (85 litre lined w/industrial strength garbage bag)
60 litre barrel w/ harness
5 litre dry bag (sunglasses, snacks, headlamp, etc.)
5 litre dry bag (containing fleece jacket)
20 litre dry bag (extra clothing)
Other Group Gear:
Nylon Tarp
2nd Water Filter
Various lengths of utility rope
2nd Single burner stove
Aluminum Pot with Lid
Pot grip/lifter
Frying Pan
Axe/Hatchet