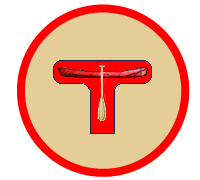 Two Red Canoes
Camping and canoeing resources.
Backcountry Emergency Kit
Consider bringing the following items on all your backcountry trips - short or long. You just never know when a canoe seat will break, a snowshoe will need repairing, or a knife will need sharpening.
Store all these items in a water tight storage box or in a small metal pot with a locking lid. A metal pot can itself be an important safety item should you require a container for boiling water or cooking food.
Self-adhesive nylon patches for tent repair (x3)
Strike-anywhere wooden matches in a waterproof container (~20)
Therm-A-Rest repair kit (for fixing a leaky sleeping mattress)
Small sharpening stone
Fire starter (matches) - stored in zip-lock bag
Fire starter (Primus Firesteel)
Batteries (1 spare set for headlamp)
Pen
Electrical Tape (1 roll)
Mini multi-tool (provides scissors and small pliers)
Fishing hooks (x2)
Fishing line
Copper wire
Large cable ties (x4) (cable ties have lot of use, including for temporarily repairing a broken canoe seat)
Heavy Duty Repair Needles (x7 - assorted sizes)
Clothing Mending Kit (x2) - contains needle, thread and a couple of buttons
Steel washers (x2)
4" Twist ties (x10)
Survival Emergency Blanket
Duct Tape (may not fit in your storage box but an important emergency item)
2 Plastic shopping bags (to keep feet dry if boots and socks get wet)